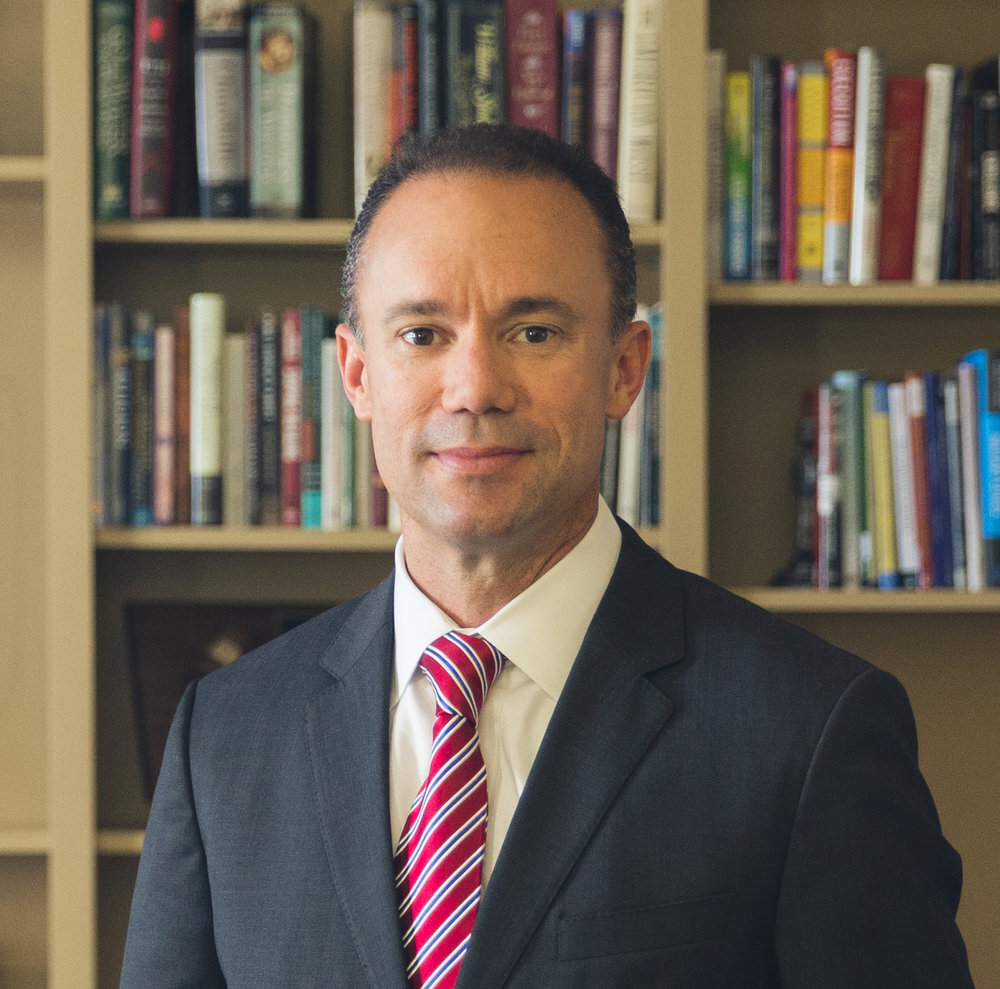 ---
Eric Patterson, Ph.D. serves as President of the Religious Freedom Institute. Patterson is past dean of the Robertson School of Government at Regent University and a Research Fellow at Georgetown University's Berkley Center for Religion, Peace & World Affairs, where he previously served full-time. Patterson's interest in the intersection of religion, ethics, and foreign policy is informed by two stints at the U.S. Department of State's Bureau of Political-Military Affairs, with work in Afghanistan, Pakistan, Congo, Angola, and elsewhere. He has significant government service, including over twenty years as an officer and commander in the Air National Guard and serving as a White House Fellow working for the Director of the U.S. Office of Personnel Management.
Patterson's academic interest is in the intersection of religion, religious liberty, and national security, such as understanding the religious dynamics of security and peace, and the way that religious freedom lowers social tensions and decreases the resort to terrorism. He has long advocated for better training for government officials on how to understand the religious dynamics of international contexts and the links between democracy and religious freedom. Some of those recommendations can be found in his many op-eds and articles as well as his book, Politics in a Religious World: Toward a Religiously Informed U.S. Foreign Policy. His long-time interest in equipping military chaplains resulted in his edited volume, Military Chaplains in Iraq, Afghanistan, and Beyond as well as a number of books and articles on the legal, political, and ethical bases for democracy promotion, the moral roots of the law of armed conflict and Christian just war thinking, and U.S. international religious freedom policy. His most recent project is a co-edited volume on the theological underpinnings of religious freedom, tentatively titled, Protestant Theological Sources for Religious Freedom (forthcoming 2023).
Patterson is the author or editor of nearly twenty books and his academic work on religious freedom, democracy, and national security has been published in International Studies Perspectives, International Politics, International Relations, Review of Faith and International Affairs, Public Integrity, Journal of Intelligence and Counter-Intelligence, International Journal of Religious Freedom, Survival, Journal for the Scientific Study of Religion, and Security Studies. His work has been published in popular outlets like The Washington Post, Orange County Register, and Washington Times. He regularly writes for WORLD Opinions and Providence: A Journal of Christianity and U.S. Foreign Policy.
Patterson has provided briefings and seminars for multiple government agencies, including France's Ministry of Defense, U.S. Department of State, U.S. Central Command, U.S. European Command, U.S. Naval War College, U.S. Naval Postgraduate School, the U.S. military academies, and many others. Patterson holds a Ph.D. in Political Science from the University of California at Santa Barbara, a Master's in International Politics from the University of Wales at Aberystwyth, and degrees from Evangel University in Springfield, Missouri.