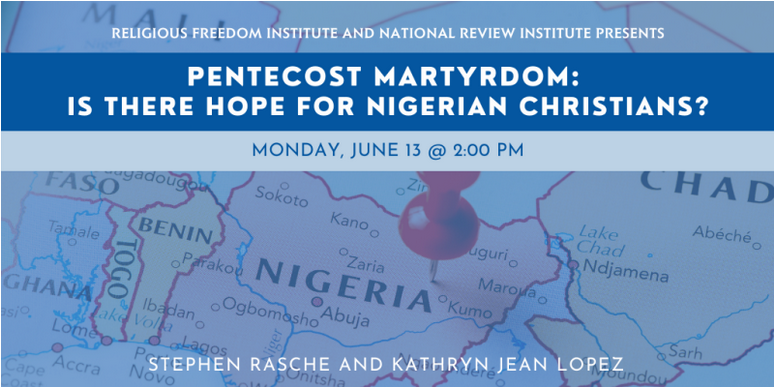 Pentecost Martyrdom: Is There Hope for Nigerian Christians?
EVENT SUMMARY
On Sunday, June 5, 2022, at St. Francis Xavier Church in Owo, Nigeria, some 50 Catholics attending Pentecost Mass were slaughtered by Islamic militants. Such attacks are increasingly commonplace in Nigeria. And yet many in media and diplomacy downplay the threat against Christians, sometimes explaining it away by climate change.
Join us for an important webinar about terrorism against Christians in Nigeria with Stephen Rasche and Kathryn Jean Lopez, both of whom serve as RFI senior fellows. Rasche spent this year's Holy Week and Easter in Nigeria and has been gathering information on persecuted Christians in the northern part of the country for two years.
SPEAKERS
Kathryn Jean Lopez, Senior Fellow at the National Review Institute, Editor-at-Large of National Review, and RFI Senior Media Fellow.

Stephen Rasche, RFI Senior Fellow for International Religious Freedom in Conflict Regions, author of The Disappearing People: The Tragic Fate of Christians in the Middle East (2020), and founding officer of the Catholic University in Erbil in 2014, where he presently sits on the board of directors.
SPONSORS
The Religious Freedom Institute is co-sponsoring this virtual event with the National Review Institute's Center for Religion, Culture, and Civil Society.
WHERE & WHEN
Monday, June 13, 2022, 2:00PM – 3:00PM EDT