---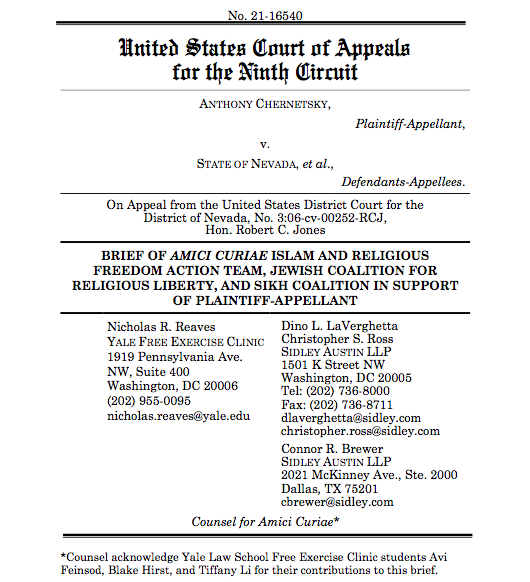 Summary of facts: A prisoner who follows the Wiccan faith has for years been fighting for his right to use scented prayer oils from outside vendors. The state of Nevada prohibits prisoners from using prayer oils, claiming they are a security risk. The prisoner sued in federal court under the free exercise clause of the First Amendment and the Religious Land Use and Institutionalized Persons Act (RLUIPA). The court dismissed the suit. It held that the prisoner's free exercise claim failed under the Supreme Court's deferential Turner v. Safely standard. In dismissing the prisoner's RLUIPA claim, however, the court failed to apply the statute's far less deferential strict scrutiny test, instead reiterating its reasoning under the Turner test. 
RFI's position: While Turner requires courts to defer to the judgment of prison officials in their enactment of restrictions on religious practices when it comes to free exercise claims, Congress passed RLUIPA specifically to replace the Turner test with an exacting strict scrutiny framework whereby restrictions on inmates' sincerely held religious beliefs would only be upheld if the state met its burden of showing that those restrictions were the least restrictive means to achieve a compelling governmental interest. While RLUIPA's protections are important to followers of all faiths, they are particularly crucial for adherents of minority religions, who are more likely to face skepticism of and therefore restrictions on their religious beliefs. The lower court failed to apply the RLUIPA standard and instead improperly deferred to the judgment of prison officials. Moreover, prayer oils pose no more danger than other religious and secular items allowed to prisoners, and numerous states safely allow the use of prayer oils from outside vendors. The ban is clearly impermissible under RLUIPA. The appeals court should therefore remand the case for further consideration.
Read the amicus brief here.
---