---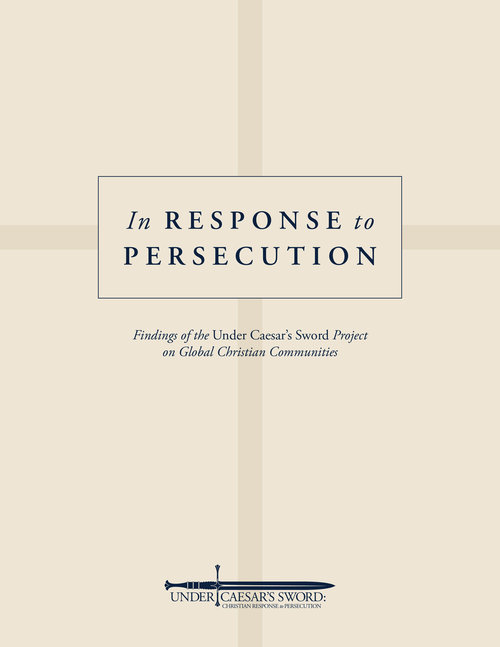 How do Christians globally respond to persecution? How will you respond?
These questions are at the heart of the Under Caesar's Sword Project.
Under Caesar's Sword is a collaborative global research project that investigates how Christian communities respond when their religious freedom is severely violated. A team of 14 scholars, representing the world's leading scholars of Christianity in their respective regions, traveled around the world to study Christian communities in over 30 countries including China, Indonesia, Nigeria, Syria, Egypt, Iraq, Pakistan, and India.
The project has produced a number of resources and materials to increase awareness and understanding of religious persecution and to equip both those persecuted and those who would seek to help.
Under Caesar's Sword Report Findings
This report conveys the findings of Under Caesar's Sword, the world's first systematic global investigation into the responses of Christian communities to persecution. It includes country-by-country analysis, major global patterns, and recommendations for action.
---
---
Download Full report here: https://ucs.nd.edu/report/ (available in English, French, Arabic, Spanish, and Mandarin Chinese)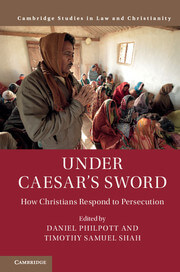 Book: Complete Findings: Under Caesar's Sword: How Christians Respond to Persecution. Cambridge University Press, 2019 (paperback).
This volume contains an essay from each of the Under Caesar's Sword scholars describing and analyzing the responses of Christians to persecution in a particular region today. The book also includes an introduction by editors Daniel Philpott and Timothy Samuel Shah.
Cambridge University Press describes the volume in this way:
The global persecution of Christians is an urgent human rights issue that remains underreported. This volume presents the results of the first systematic global investigation into how Christians respond to persecution. World-class scholars of global Christianity present first-hand research from most of the sites of the harshest persecution as well as the West and Latin America. Their findings make clear the nature of persecution, the reasons for it, Christian responses to it - both non-violent and confrontational - and the effects of these responses. Motivating the volume is the hope that this knowledge will empower all who would exercise solidarity with the world's persecuted Christians and will offer the victims strategies for a more effective response. This book is written for anyone concerned about the persecution of Christians or more generally about the human right of religious freedom, including scholars, activists, political and religious leaders, and those who work for international organizations.
Brings attention to the underreported plight of persecuted Christians
Includes details of persecution in twenty-four countries
Will help activists and officials respond more effectively to persecution
Under Caesar's Sword: A documentary about how Christians respond to persecution
---
---
Step into the lives of Christian families, refugees, and leaders facing persecution. How do they respond? How will you

The documentary is accompanied by a discussion guide and resources for holding a screening with a religious group, school, or other public venue.

The full film, discussion guide and other resources are available at: https://ucs.nd.edu/film/

Learn more about the Under Caesar's Sword project: http://ucs.nd.edu/
---
---
---
The Under Caesar's Sword initiative was a joint-project of the Religious Freedom Institute, the Notre Dame Center for Culture and Ethics, and the Religious Freedom Project at Georgetown University's Berkley Center for Religion, Peace, and World Affairs.
---
---