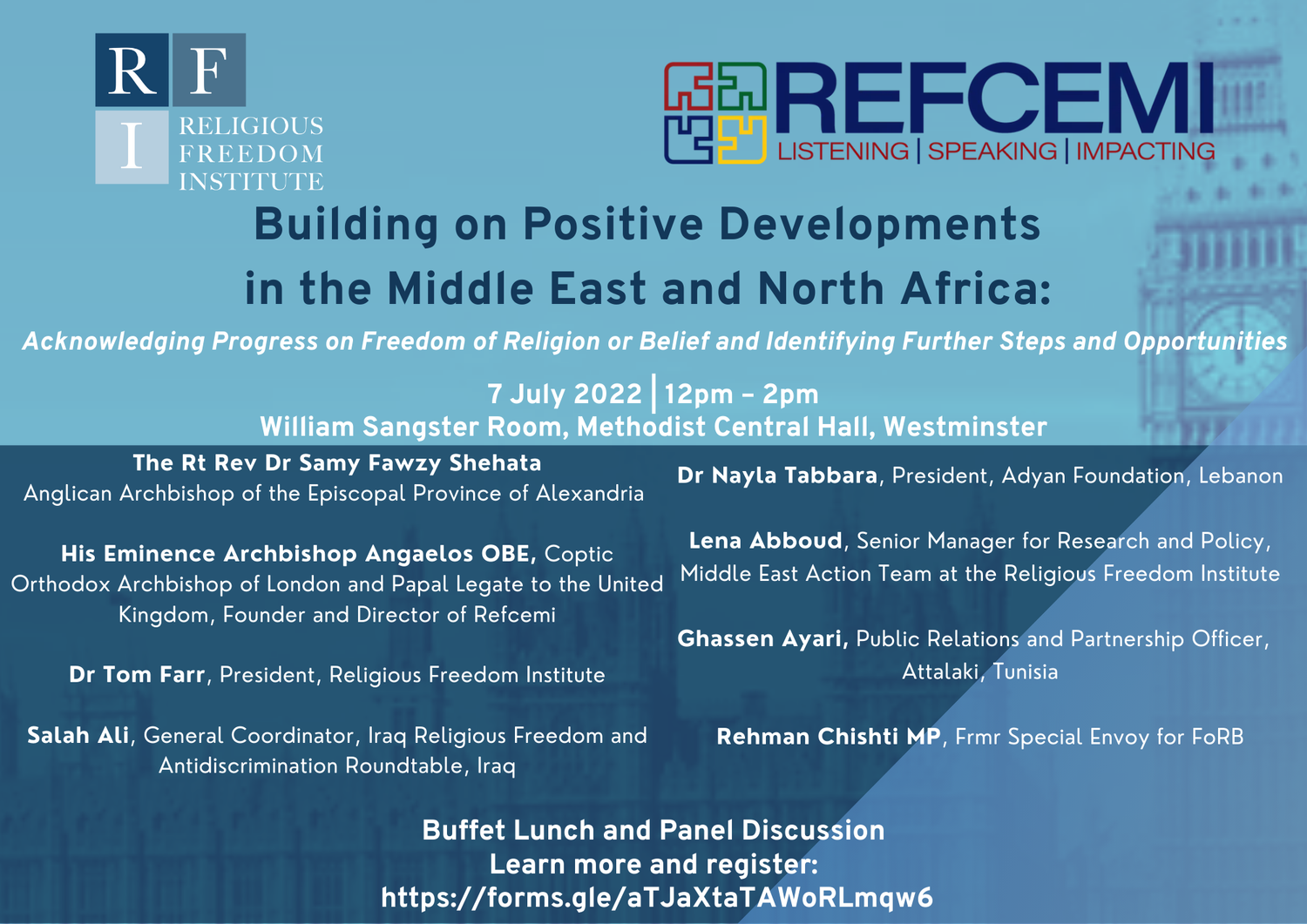 Building on Positive Developments in the Middle East and North Africa: Acknowledging Progress on Freedom of Religion or Belief and Identifying Further Steps and Opportunities
The Middle East and North Africa region is a hotbed of human rights violations and is one of the worst areas in the world when it comes to the right to religious freedom and the persecution of minority religious groups. It is right and important that much time is given to highlighting the crimes of perpetrators and challenging the lack of comprehensive responses to the crimes. However, it is also important to acknowledge places where there are signs of improvement to the religious freedom landscape and to identify opportunities to support and consolidate such developments for the common good of those communities and nations.
On the fringe of the UK-hosted Ministerial Conference on Freedom of Religion or Belief (July 5-6), The Religious Freedom Institute in collaboration with Refcemi is hosting an event, focusing on countries such as Egypt, Iraq, and Tunisia. This will be a platform for experts to promote concrete solutions for the consolidation and advancement of religious freedom for all.
SPEAKERS INCLUDE
His Eminence Archbishop Angaelos OBE, Coptic Orthodox Archbishop of London and Papal Legate to the United Kingdom, Founder and Director of Refcemi

Dr. Tom Farr, President, Religious Freedom Institute

Lena Abboud, Senior Manager for Research and Policy, Middle East Action Team at the Religious Freedom Institute

Salah Ali, General Coordinator, Iraq Religious Freedom and Antidiscrimination Roundtable, Iraq

Ghassen Ayari, Public Relations and Partnership Officer of the Attalaki NGO, Tunisia

Dr. Nayla Tabbara, President, Adyan Foundation, Lebanon

The Rt Rev Dr Samy Fawzy Shehata, Anglican Archbishop of the Episcopal Province of Alexandria, Egypt

Moderator: Ewelina Ochab, Deputy Director, Refcemi

Closing Remarks: Rehman Chishti MP, Former PM's Special Envoy for FoRB and Member of Parliament for Gillingham and Rainham