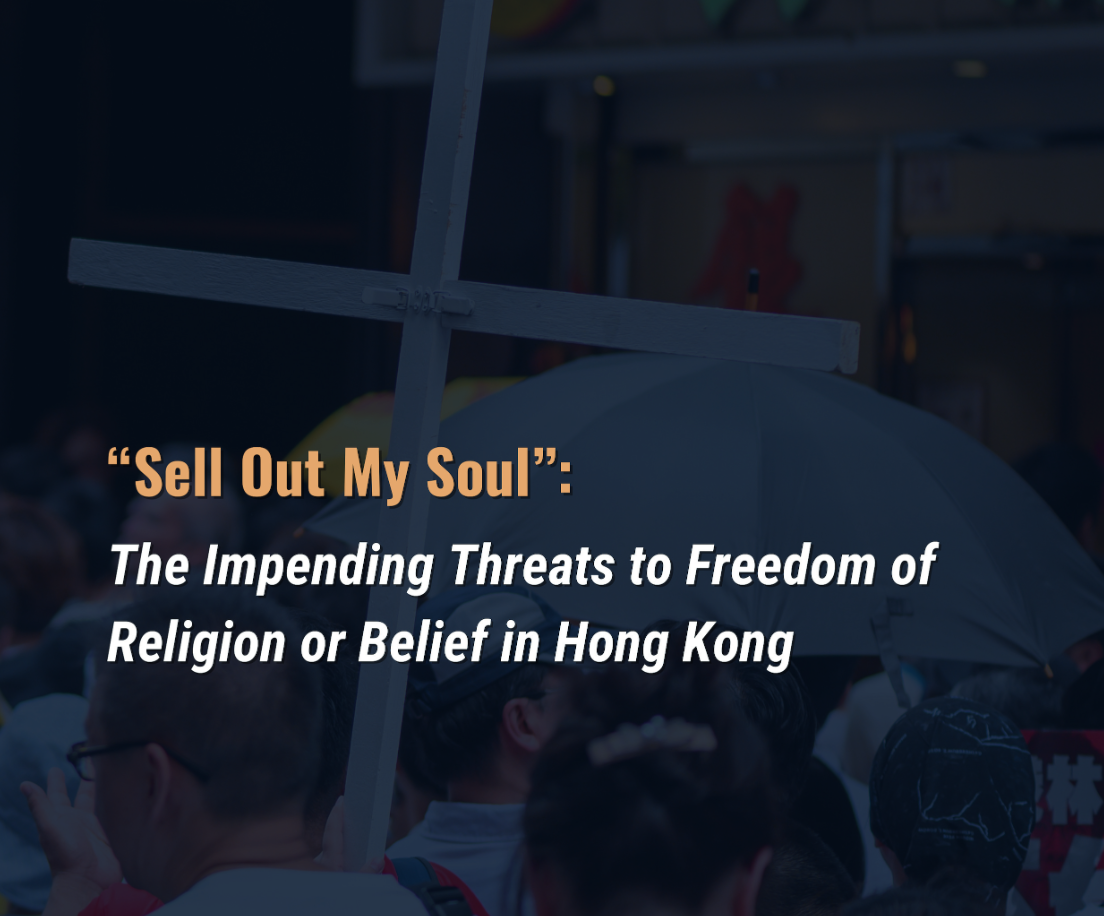 Launch of Groundbreaking Report on Religious Freedom Threats in Hong Kong
Overview:
Hear Ben Rogers, co-founder and Chief Executive of Hong Kong Watch, highlight a critical new report that Hong Kong Watch has launched titled, "Sell Out My Soul: The Impending Threats to Freedom of Religion or Belief in Hong Kong."
The report details threats to religious freedom in Hong Kong today, including the draconian National Security Law that has had a chilling effect on religious believers in the city. This and other repressive measures have led to widespread self-censorship in sermons and other religious activities, threats to faith-based schools, and the increasing intrusion of Beijing's campaign of 'Sinicization' of religion in Hong Kong.
Where:
Religious Freedom Institute
316 Pennsylvania Ave SE, Suite 501
Washington, DC 20003

*A light lunch will be provided.
About the Speaker:
Benedict Rogers is the co-founder and Chief Executive of Hong Kong Watch. Ben launched Hong Kong Watch, together with other co-founders, in Speaker's House in the British Parliament on 10 December 2017, just two months after he was denied entry to Hong Kong on the orders of Beijing, and served as the Chair of Trustees of Hong Kong Watch from 2017-2020. Before joining Hong Kong Watch as the Chief Executive in September 2020, Ben was the East Asia Team Leader at the international human rights organisation CSW, where he specialised in Myanmar, Indonesia, North Korea and China. He is also the co-founder and Deputy Chair of the Conservative Party Human Rights Commission, a member of the advisory group of the Inter-Parliamentary Alliance on China (IPAC), an advisor to the World Uyghur Congress, Senior Analyst for East Asia at CSW, a trustee of several other charities, author of six books and a regular contributor to international media. He has testified in hearings in the British Parliament, European Parliament, Japanese Parliament and United States Congress and is a regular speaker around the world. Between 1997 and 2002, he lived and worked as a journalist in Hong Kong, and in 2003 he lived and worked in Washington, DC.