Faith Bible International v. Tucker
---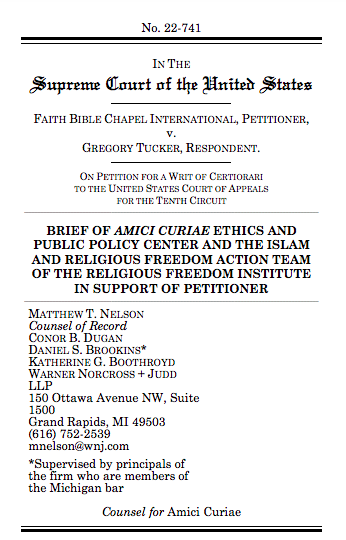 Summary of facts: A chaplain at Faith Bible Chapel, a Colorado church, allegedly delivered an overly-political sermon on race and then behaved divisively in the ensuing controversy. The chaplain then left the church and sued the church in federal court. The church argued that the suit should be dismissed under the First Amendment's "ministerial exception," which bars government interference in church leadership decisions . The district court, treating the church's ministerial exception argument separately from the former chaplain's substantive claims, ruled that the exception did not apply in this case. The church appealed, arguing that the ministerial exception rendered it immune to suit. The US Court of Appeals for the Tenth Circuit ruled that the ministerial exception is not a jurisdictional bar to suit, and that the lower court's decision could not be appealed until after trial on the merits of the former chaplain's claims. Faith Bible Chapel has asked the Supreme Court to review that decision. (This is a companion case to Synod of Bishops of the Russian Orthodox Church Outside of Russia v. Belya).
RFI's position: The religion clauses of the First Amendment prohibit the government from interfering with the leadership decisions of religious institutions. Courts do not have the constitutional authority to entertain lawsuits regarding their employment practices. The ministerial exception is therefore analogous to qualified immunity, and whether it applies in a given case is a legal question. The Supreme Court should grant review to settle a split among the federal courts of appeals on this issue.
Read the amicus brief here.
---