---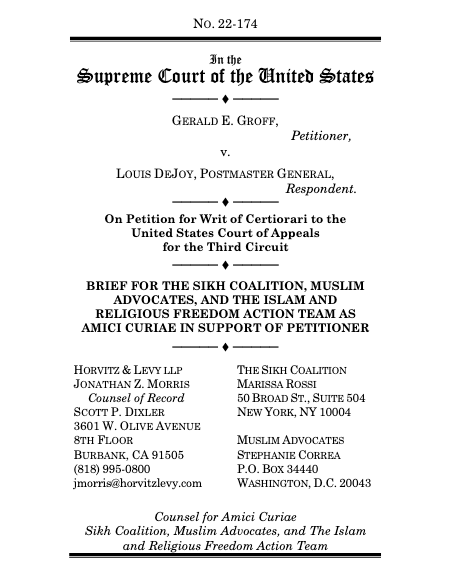 In this case the U.S. Court of Appeals for the Third Circuit held that the U.S. Postal Service (USPS) was not required under Title VII of the 1964 Civil Rights Act to accommodate an employee's request not to work on Sundays because doing so would impose a greater than de minimis cost (i.e., a nominal cost) on USPS. The Supreme Court established the de minimis standard in TWA v. Hardison. In this brief, amici curiae ask the Court to grant review of the employee's case and overrule Hardison. In this brief, amici argue that this standard is not found in the text of Title VII and defeats Congress's intent to grant robust protections for the religious practices of employees. RFI's Islam and Religious Freedom Action Team joined Muslim Advocates and The Sikh Coalition in filing this brief.
RFI position: The denial of Muslim and Sikh employees' common requests for religious accommodations in the workplace under Title VII is especially unfair and anomalous because other statutes routinely grant the same or similar accommodations in other contexts. Greater religious protections requested by Sikh and Muslim employees are possible without imposing unworkable burdens on employers.
Read the amicus brief here.
---