Jaramillo Sandoval v. la Universidad Nacional de Colombia
---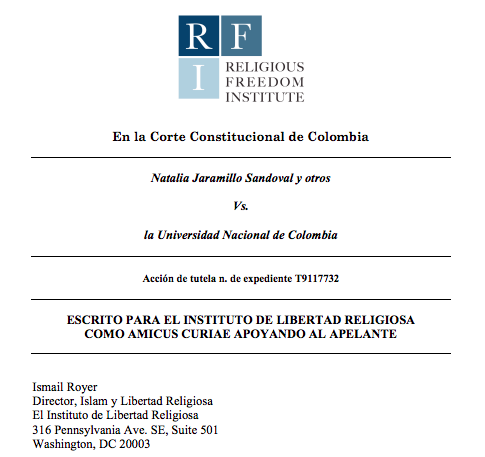 Summary of facts: Several students at the National University of Colombia started a Christian-inspired student group to create an academic space in which members could improve their level of English and express the principles and values of the Christian faith according to the Reformed tradition. Student groups recognized by the university, the largest public university in Colombia, receive publicity for their project in school communication channels, funding, and use of the school's facilities. Although the club enjoyed recognition for several years, the university decided in 2020 that recognition constituted  a violation of the principle of separation between church and state ("Estado laico"). The club's members petitioned a court  for a writ of constitutional protection, alleging a violation of their right to freedom of conscience and religion. and worship. The district court and court of appeals ruled against the students, claiming that the school's actions were protected under the principle of university autonomy. The students have appealed to the Constitutional Court, Colombia's highest court.
RFI's position: Government does not establish an official religion when it permits religious speech and worship in a public forum. Religious freedom may be limited when religious practices violate the fundamental rights of others or are irredeemably harmful to the public good. That, however, is not the case here. The government is not neutral when it is actively hostile to religion. Rather, it may exercise a "benevolent neutrality" that reflects and respects the beliefs of the people. This is the balance by which the American founders and its contemporary courts protect the autonomy of both church and state, and prevent the encroachment of one on the other. Given that Colombian law shares this objective, its Constitutional Court should adopt this approach as well. 
Read the amicus brief here.
---