Jarrard v. Sheriff of Polk County
---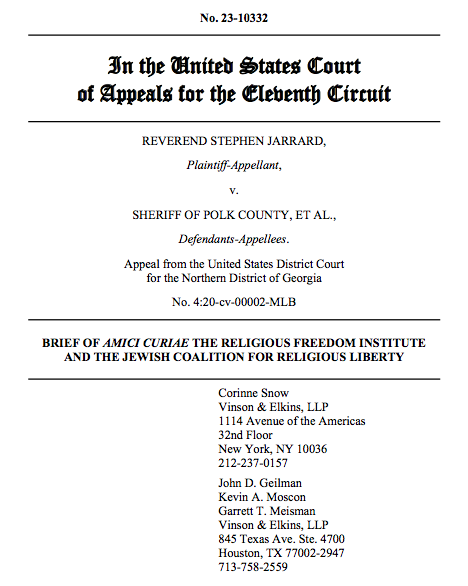 Summary of facts: A Church of Christ evangelist who served as a volunteer minister to inmates in Georgia prisons and jails for years was removed from his position at Polk County Jail because jail officials disagreed with his doctrine that baptism is necessary for salvation. The chaplain sued for retaliation under the Free Speech Clause and the Free Exercise Clause of the First Amendment. The district court granted summary judgment to the jail officials under a legal doctrine holding that government employers can control their employees' speech. The chaplain appealed to the US Court of Appeals for the Eleventh Circuit.
RFI's position: The district court improperly relied on a legal framework that applies to matters of free speech, not religious worship; this is a free exercise case at its core. Moreover, because of the significant amount of religious ministering done in prisons by a variety of religions, this case would have far-reaching negative implications. Muslim and Jewish ministries have long played a role in meeting the spiritual needs of individuals in prisons, as have other religious organizations. The Court of Appeals' ruling needs to be crafted with the implication for religious minorities in mind.
Read the amicus brief here.
---