---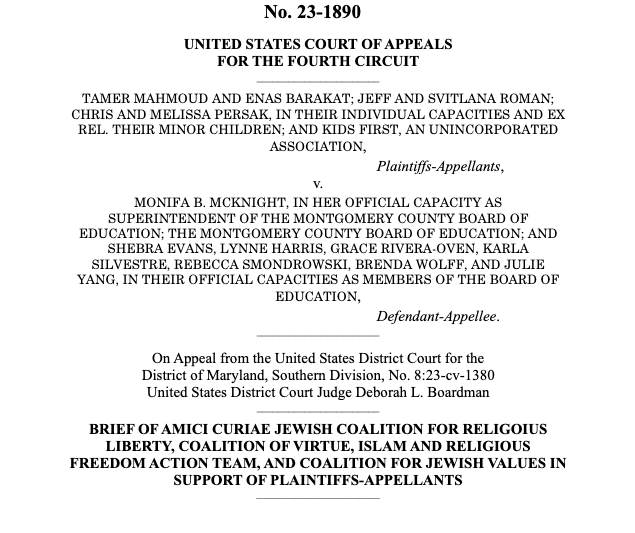 Summary of facts: The Montgomery County Board of Education (MCBOE) introduced storybooks into its language arts program intended to teach children that people can change the sex they were born with and that sexual relationships between people of the same sex are morally acceptable. Maryland state law permits parents to exempt their children from sex education classes, but the district argues that this right to "opt out" does not apply to the storybooks because they have woven them into the language arts curriculum. Muslim and Christian parents sued in federal district court, arguing that MCBOE is violating their constitutional rights to religious freedom and to direct the upbringing of their children. The court denied the parents' motion for a restraining order, holding that parents have no right to exempt their children from these lessons. The parents appealed to the U.S. Court of Appeals for the Fourth Circuit and asked for a preliminary injunction pending resolution of the appeal. The court denied the request but ordered an expedited briefing schedule for the appeal.
RFI position: The religious law of both Muslims and Jews commands parents to dictate the religious and moral instruction of their children. The anthropology of both faiths affirms that human beings are created as male or female. MCBOE's new storybooks initiative discusses issues surrounding family life and human sexuality, and encourages students to question their sexuality and gender identity. Given that these issues are often infused with religious significance, the School Board's decision to refuse to accommodate religious objectors' reasonable opt-out requests is a clear burden on parents' obligation to educate their children in accordance with their religious ideals, and thus violates their religious freedom.
Read the amicus brief here.
---