RFI Supports Maryland Muslim Parents' Fight for Religious Freedom
---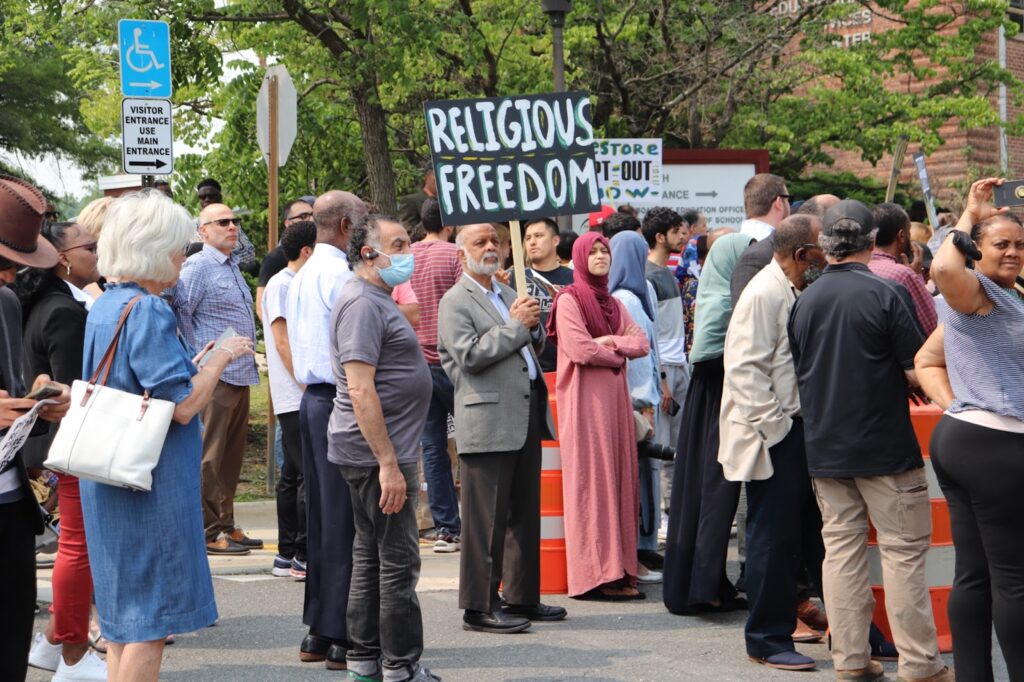 On June 6th, hundreds of Muslim and Christian parents and students rallied outside a meeting of the Montgomery County, Maryland's school board to protest its decision to revoke the right of parents to opt their children out of instruction in sexual morality that contradicts their religious teachings.
As parents and students testified before the Montgomery County Public Schools (MCPS) board and called on it to restore their right to opt out, the voices of protestors outside were audible as they chanted their support with calls to "protect our children" and "protect religious freedom." The rally was organized by a coalition of Muslim parents and rights groups who oppose MCPS's move, which it claims is necessary to make students feel included.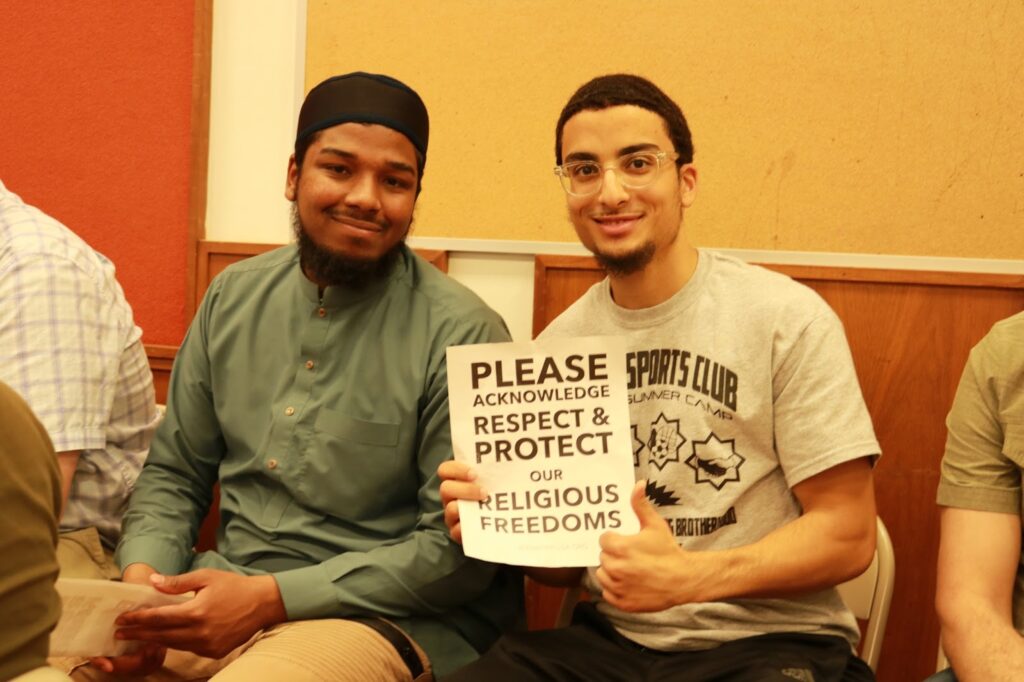 As detailed in a lawsuit filed last month on behalf of Muslim and Christian parents, MCPS once allowed parents to opt out of lessons that promoted same-sex relationships and the idea that children can change their sex. In March of this year, however, MCPS revoked that option and now considers such instruction mandatory. The parents argue that refusing to let parents opt out violates their constitutional right to raise their children and to the free exercise of religion.

The lawsuit cites books such as "Uncle Bobby's Wedding," the story of a young girl's uncle marrying his boyfriend, and "Pride Puppy," which instructs three-year-olds about things they may see at a Pride parade, like drag queens, leather, and underwear.
RFI has been working closely on this issue with the Coalition of Virtue (COV), which helped to organize this week's rally. Ismail Royer, Director of RFI's Islam and Religious Freedom Action Team, attended the board meeting and the rally, and is Senior Policy Advisor to COV.
Inside the board meeting, community members were stunned when Montgomery County Councilmember Kristen Mink, who had earlier circulated among the protestors and listened to their perspective, testified that Muslim parents were "on the same side" as white supremacists in seeking to opt out of the school system's sexual morality teachings. The gasps of parents at her words were audible and many rose and walked out of the meeting. COV's Karim Monib appeared on Fox News later that evening to discuss Councilmember Mink's comments.
Outside the meeting, the protest by parents and community members was lively as was the small counter-protest, but members of both groups also took the time to listen to each other's perspectives. In many ways, this gathering of deeply divided people embodied what is called for in the American Charter of Freedom of Religion and Conscience, especially key provisions in Articles 1 and 13. MCPS needs to follow suit.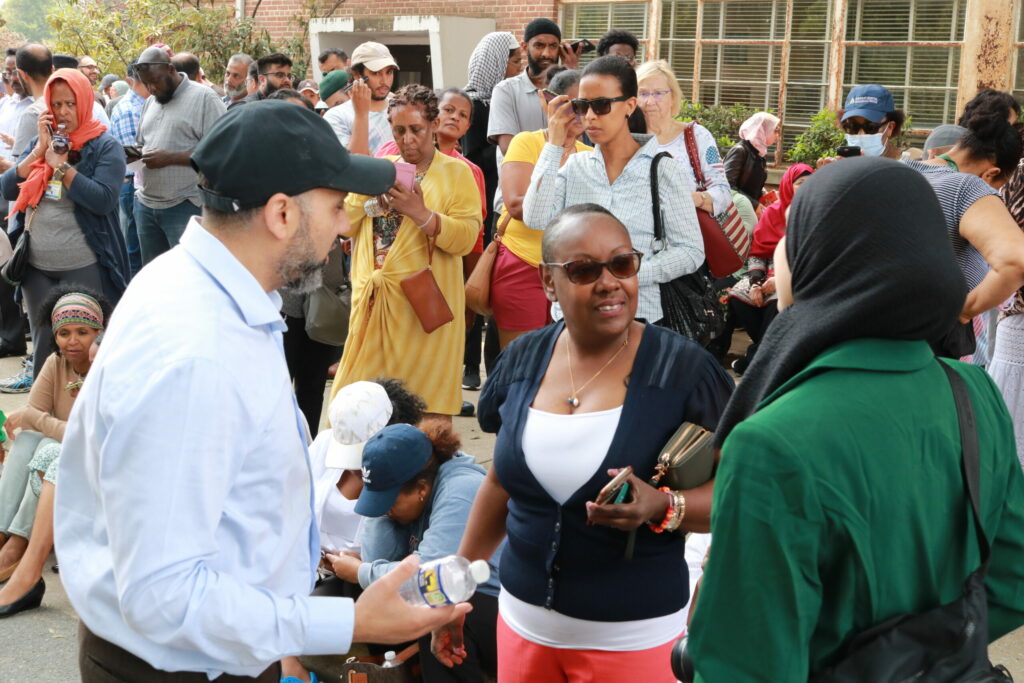 ---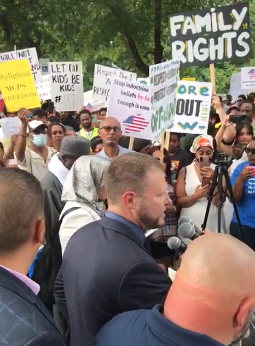 On June 27th, Muslim and Christian families and other supporters came together again, this time numbering in the thousands, far exceeding the size of the gathering on June 6th, to continue to demand religious freedom for families with students who attend Montgomery County Public Schools (MCPS). The rally coincided with another MCPS board meeting, following its meeting on June 6th. The purpose of this MCPS convening was to hear from the community about its recently issued policy denying parents the freedom to opt their children out of instruction on sex and "gender" that runs contrary to their religious convictions.
RFI's Ismail Royer spoke during the rally, reminding those in attendance that the American founders, especially James Madison, defended the very protections of conscience they are now seeking. He pointed to the extraordinarily high burden the government must meet in order to justify impinging on the conscience rights of its citizens. And Royer underscored that MCPS has not specified what compelling interest it might have in this circumstance that would overcome the protections all families in Montgomery County enjoy because of the First Amendment.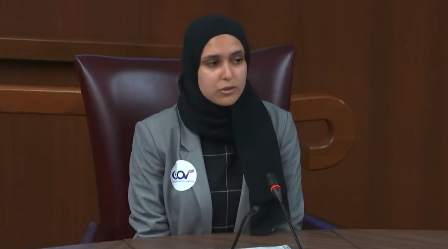 Also, RFI intern Sameerah Munshi testified during the MCPS meeting as a representative of the Coalition of Virtue. Munshi explained to board members that the teachings of Islam are relevant to all areas of life, including the desire of Muslim parents to pass on those teachings to their children. "We ask that we at least have a choice," Munshi stated, "for our children not to be forced to participate in celebrating or normalizing views that contradict our religion."
---
MEDIA COVERAGE:
On June 28, 2023, Ismail Royer, Director of RFI's Islam and Religious Freedom Action Team, appears on "The Ingraham Angle" (Fox News), following second rally in Montgomery County, Maryland.
"Muslim activist gives powerful speech against forced LGBTQ curriculum: 'Our people are not backward'" by Hannah Grossman (Fox News) June 28, 2023
On June 8, 2023, Kareem Monib, Co-Founder of the Coalition of Virtue, advocates for parents' rights on "The Ingraham Angle" (Fox News)
"Maryland Council Member Apologizes for Likening Muslims to White Supremacists over Opposition to LGBT Lessons" by Sahar Tartak (National Review) June 13, 2023
"Dem Maryland official says Muslim children aligned with 'White supremacists' for opposing LGBTQ curriculum" by Hannah Grossman (Fox News) June 7, 2023
---