Scardina v. Masterpiece Cakeshop 
---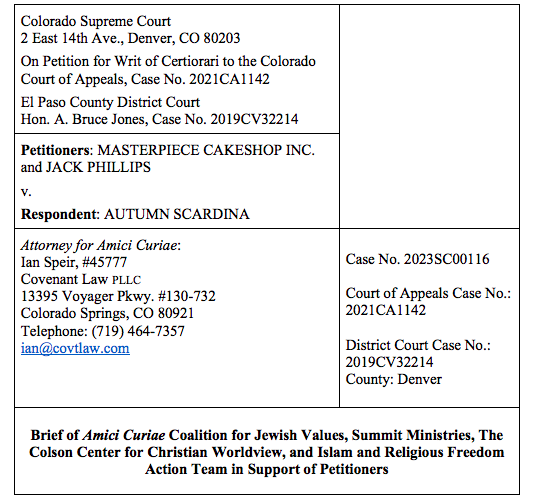 Summary of facts: On the same day the US Supreme Court announced it would hear Jack Phillips's appeal of a case in which Colorado tried to force him to create a custom cake celebrating a same-sex wedding—a case Phillips won in 2018—an activist attorney called Masterpiece Cakeshop requesting that Phillips create a custom-designed cake symbolizing and celebrating a "gender transition." Masterpiece Cakeshop declined that request because the customer specifically asked that the cake express messages and celebrate an event in conflict with Phillips' religious beliefs. The attorney sued Phillips and Masterpiece Cakeshop under the Colorado Anti- Discrimination Act (CADA), asserting that Masterpiece Cakeshop had rejected the request based on the attorney's status as a member of a protected class. The trial court found for the plaintiff, reasoning that the requested cake design–pink, white, and blue, to reflect the "transgender flag"–did not convey any particular message, and therefore the defendants' refusal must have been based on status alone. The state appeals court affirmed, and Phillips and Masterpiece Cakeshop now appeal to the Colorado Supreme Court. 
RFI position: A cake designed to resemble the "transgender flag" does in fact communicate a message, and for Colorado to force the defendants to express that message, even though it contradicts their religious beliefs, violates the First Amendment.
Read the amicus brief here.
---