The 'Cave Church' a Sign of Hope in the Middle East
---
RFI's Paul Marshall authored an essay published recently in Religion Unplugged on how the 'Cave Church' located in Cairo, Egypt is a "Sign of Hope in the Middle East." "Amid the pain and suffering in the Middle East, it is good to be reminded that beautiful things also happen there," Marshall writes. He continues: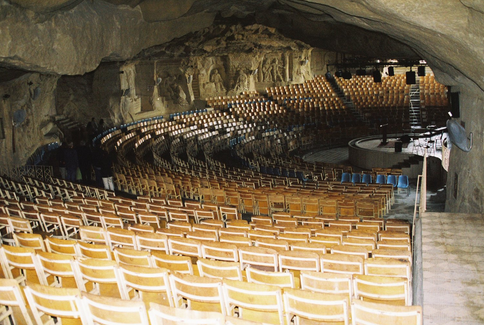 One such remembrance came on Oct. 11 with the funeral of Father Simaan Ibrahim in Muqattam, in southeast Cairo. It was a funeral, with much lament, but also a joyous occasion that drew 30,000 people to worship in the monastery of St. Simaan the Tanner church, which he had founded and led for 50 years.
These many tens of thousands were able to gather inside a myriad of caves at the base of the cliffs of Muqattam. In congregation, setting and architecture, it is one of the most remarkable churches in the world.

Down a narrow lane from the cave lies one of the poorest areas of Cairo. It is colloquially known as "Garbage City" and is the home of the zabaleen, the garbage collectors.

Most of the garbage collection in Cairo has been done privately, usually by Christians, Copts who make up the vast majority of the zabaleen. They pick the garbage up in trucks and carts, take it back to where they live and sort through it for anything possibly valuable — tires, plastic, cloth, cardboard — which they then try to sell for recycling. They live amid the garbage, much of which is deemed religiously unclean, and so those who collect it are also seen as unclean.
Read the full article: "The 'Cave Church' A Sign Of Hope In The Middle East."
---