---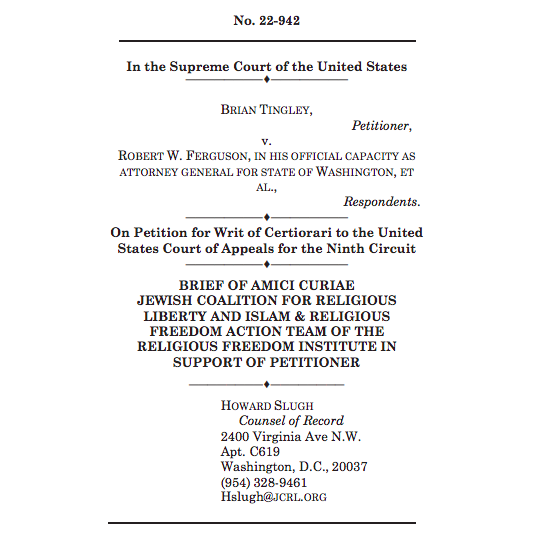 Summary of facts: A licensed marriage and family therapist in Washington State who sees his work as stemming from his Christian faith sued state officials after the legislature enacted a statute prohibiting licensed counselors from helping clients who seek help with unwanted same-sex attraction and gender identity confusion. The therapist argued that the statute violated his free-speech and free-exercise rights, and asked the court to prohibit the state from enforcing the statute against him. The district court dismissed his suit, holding, among other things, that his free exercise claim failed under the Supreme Court's 1991 decision in Employment Division v. Smith because the statute was neutral and generally applicable. The US Court of Appeals for the Ninth Circuit affirmed, and the therapist then asked the Supreme Court to hear the case.
RFI's position: The Supreme Court should grant review and overturn Smith. The Court held in that case that the Free Exercise Clause of the First Amendment did not prevent the government from imposing a substantial burden on the people's religious practices so long as the challenged government action was neutral and generally applicable. This decision distorts the original meaning of the Free Exercise Clause, which prohibits government from burdening religion regardless of whether its action is neutral and generally applicable unless it can demonstrate a compelling interest. The Clause is not a mere nondiscrimination provision, nor is it redundant with the Free Speech Clause. Moreover, Smith has had a disproportionate impact on religious minorities such as Muslims and Jews. Indeed, the very statute in this case impinges on the free exercise of observant members of those faiths. 
Read the amicus brief here.
---